The Yule log or Buche de Noel is a traditional Christmas bake. Going back many centuries the Yule Log was an actual log felled at the time of the Winter Solstice when days were short and cold and at Yule time a bit of warmth from an open fire was something everyone looked forward to. This cake is decorated to resemble a log and is quite easy and fun to make.
It comprises as Genoese style cake baked on a flat sheet and rolled prior o being filled so that it remembers to be a log shape. It is then filled with either whipped double cream, buttercream or chocolate ganache. The final stage is to cover the filled cake with chocolate ganache and a sprinkling of snow (icing sugar) and a sprig of holly.
I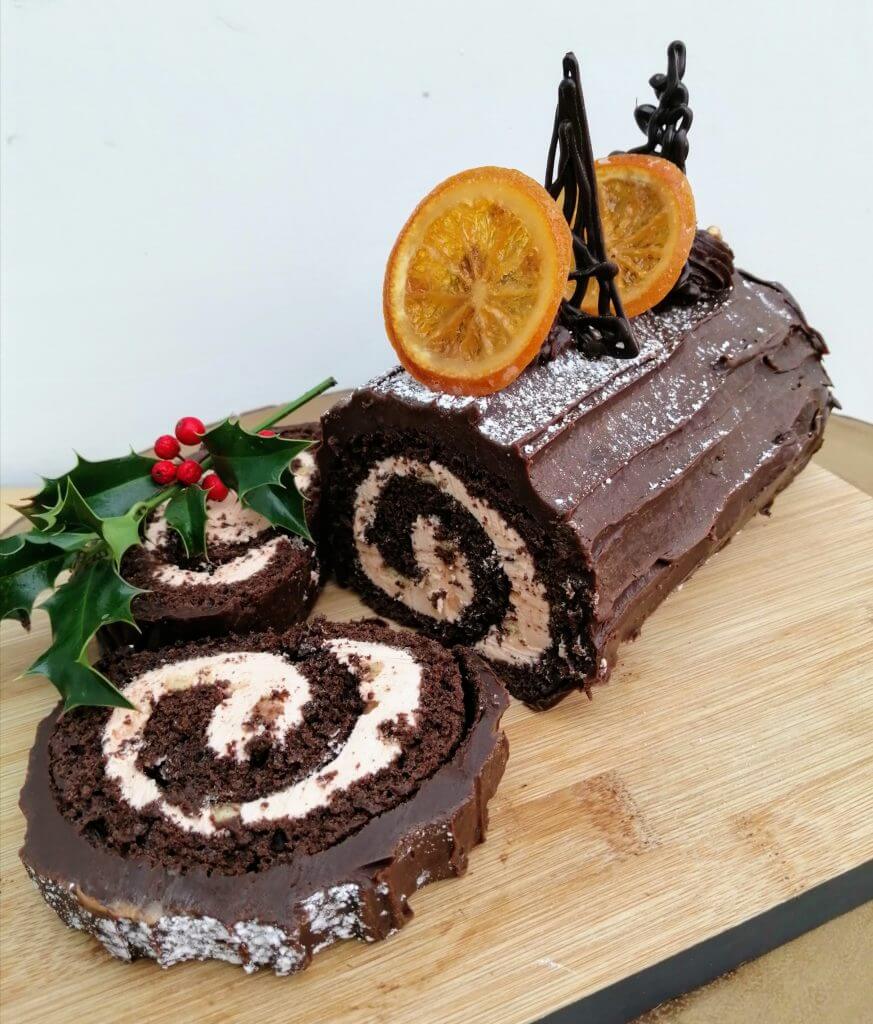 Recipe
Sponge
3 Eggs
75g caster sugar
70g plain flour
20g cocoa
(1 Tbs caster sugar and cocoa mixed together for dusting)
Method
Grease a 26cm x 36cm baking tray and line the bottom with greaseproof paper. Preheat oven to 190c.
In a large bowl mix the eggs and the sugar with an electric mixer until very light, frothy and doubled in size. Combine the flour and cocoa and sift over the egg mixture. Using a large metal spoon carefully fold in the flour and cocoa making sure not to deflate the mixture, so be gentle. Por the batter into the tray and bake for about 8 minutes and remove from the oven.
Sprinkle the cocoa and sugar onto a sheet of clean greaseproof paper and invert the sponge on to it. peel off the paper it has been cooked on and discard it.
with a blunt knife run a line (do not cut right through the sponge) 2 cm in from one of the short ends. and roll it up with the fresh paper rolled inside it. Leave it to cool completely.
Ganache
250ml double cream
250 g dark chocolate
In a medium pan warm the cream a tiny bit with the chocolate, just enough to melt the chocolate and then stir it all together. Leave to cool and set to the consistency of soft butter.
Assembly
Unroll the sponge and fill with a smooth layer of a filling of your choice. Roll the sponge back up and cover with the ganache. use a fork or the back of a knife to give a log like appearance. Dust with a little icing sugar.