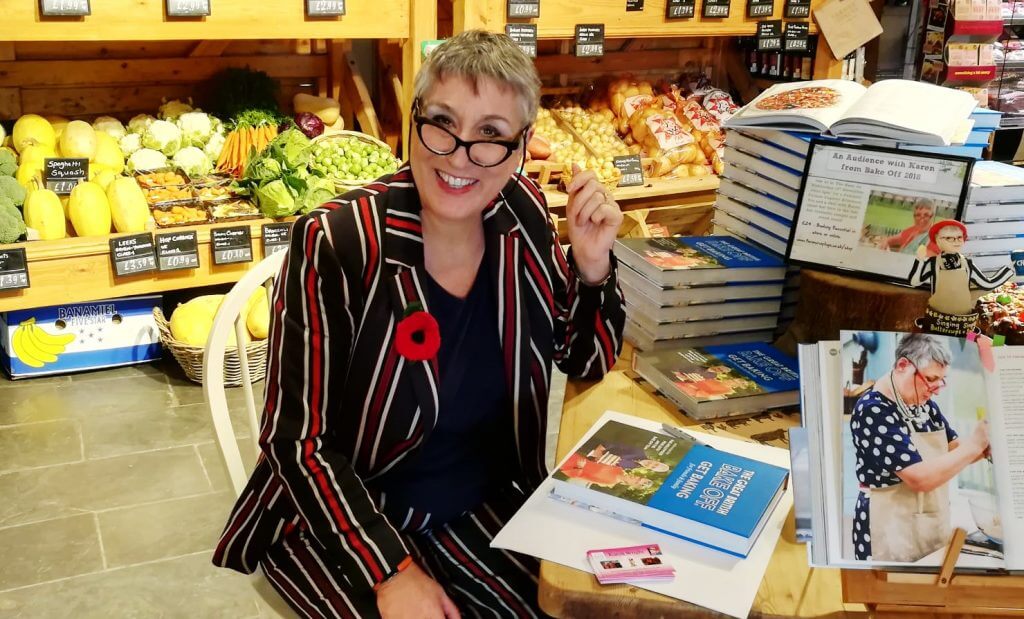 I've got several events coming up, booking information is included below if you would like to pop along and say hello.
You can also hear me on BBC Radio Leeds on the last Sunday of each month from 11-12. I also have a weekly radio show on Tuesdays 12-2 at 5 Towns Radio and a weekly column in the Wakefield Express each Thursday.
2020
Monday 13th January, Presentation at Durkar Women's Institute
Thursday 16th January, Demo and Q&A at Caravan and Motorhome Show
Saturday 18th January, Karen's Tart Masterclass in London. Book here.
Sunday 23rd February, Two demonstrations at the Wakefield Rhubarb Festival
Monday 13th April, Demo at Chester Food and Drink Festival
Friday 8th May, Special Guest at Motorhome and Caravan Club 75th Anniversary of VE event
Wednesday 3rd June, Speaker at Wrenthorpe Garden Club
2019
Friday 18th January, Presentation at Horbury Women's Institute
Wednesday 14th February, Presentation at Rothwell Women's Institute
Thursday 21st February, Live Food Demo at NEC, Caravan, Camping and Motorhome Show
Sunday 24th February, Live Food Demo at The Wakefield Rhubarb Festival
Thursday 28th February. An Audience with Karen. Walker Studio, Theatre Royal Wakefield. Tickets here.
Wednesday 13th March: Mothers' Day photoshoot with Cartwright and Butler.
Friday 15th March. Theatre Royal Wakefield Gala Dinner
Monday 18th March – Friday 29th March. Erwin Hymer Sponsored Trip to Germany/Austria/Czech Republic with Terry from The Great British Bake Off
Saturday 20th April: Chester Food Festival, Live Food Demo
Mayday Weekend (4th – 6th May 2019), Live Food Demo at The Brighton Foodie Festival. Find out more about the festival here > 
Spring Bank Holiday Weekend (25th and 26th May), Live Food Demo, Great British Food Festival at Harewood House
Saturday 8th June Live Food Demo at Sutton Coldfield Food Festival
Tuesday 18th June 2019: Talk for Walton Library (location TBC)
Friday 21st June – Friday 28th June . Celebrating Courier Xmas  in France. Collaboration with https://www.eurocamp.co.uk   
Sunday 30th June. Forget Me Not Children's Hospice Fundraiser, Trinity Walk, Wakefield
Sunday 7th July. Walton Primary School Fundraiser Event
Saturday 13th July. Foodies Festival Live Food Demo. Tatton Park
Saturday 27th July 2019 Live Food Demo's Worcester Food Festival
Friday 23rd August 2019 Live Food demo Cannon Hall Farm, Barnsley
Saturday 24th August 2019, Live Food Demo at The Sherburn in Elmet Food and Craft Fair. Find out more about the event and book your tickets here >
Sunday 25th and Monday 26th August 2019, Live Food Demo at Great British Food Festival at Stoneyhurst College, Clitheroe, Lancs
Saturday 7th September and Sunday 8th September Taste of Kent Food Festival Live Food Demo's
Friday 20th September. Towcar of the Year Awards. London. Guest of the Caravan and Motorhome Club.
Friday 27th September. Theatre Royal Wakefield, McMillan Bake Event
Saturday 28th September. Opening Scarecrow Festival . Sandal, Wakefield
Friday 4th October The Cake and Bake Show, Excel London
Monday 7th October. HM Prison Wakefield. Charity Fundraiser
Monday 7th October. Wakefield Inner Wheel Speaking,
Thursday 17th October Motorhome and Caravan Show NEC, live chef demos
Saturday 19th October and Sunday 20th October Elsecar Food Festival  Live Food Demo