Blue Cheesecake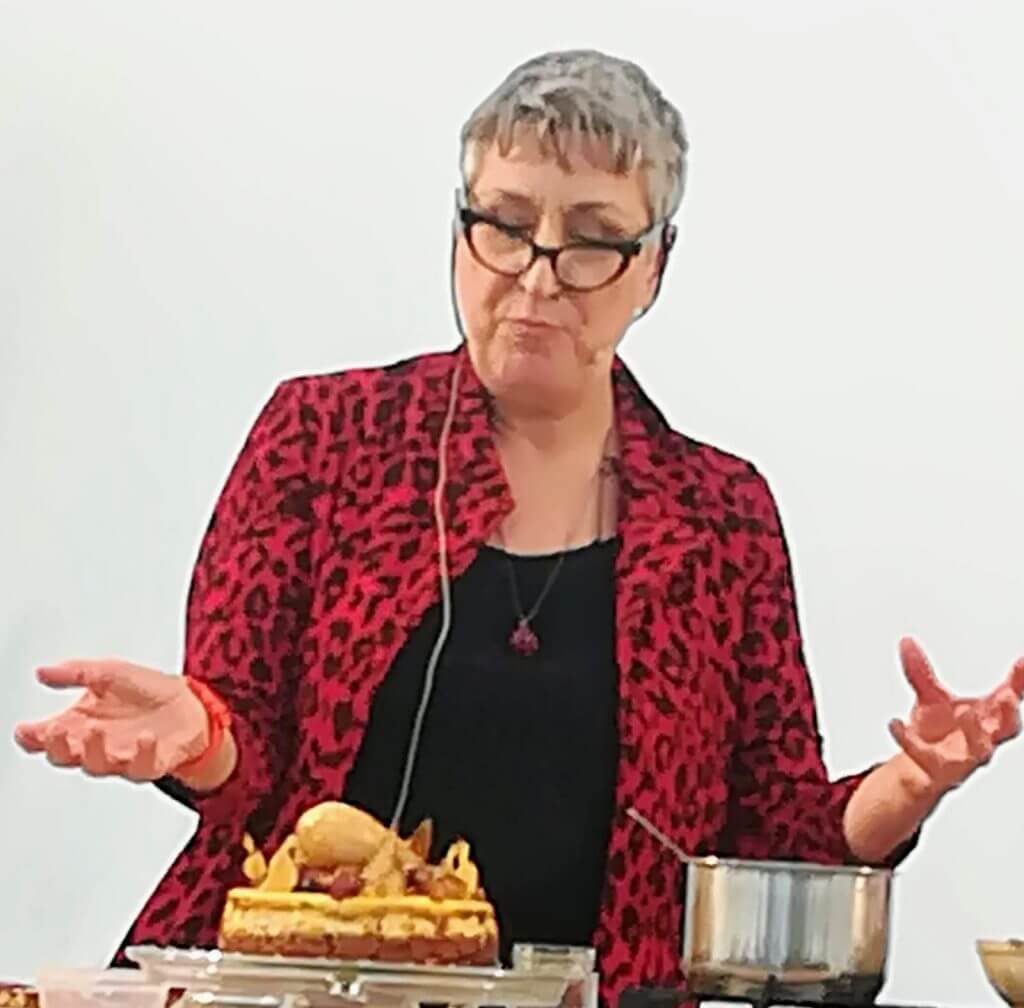 I was trying to develop a recipe for a savoury cheesecake using Stilton in particular, I love blue cheese with walnut or pecan and pears go so well with both that this evolved. In my mind this will be great on a buffet table with the cheeseboard or instead of. A hint of sweetness in the base with ginger biscuits in there too. My thesaurus of food pairings told me that a sweet praline might give some texture and a touch more sweetness, so the shards and then the dried pear flames were born. A juicy spicy poached pear on top of a sweet/sour relish is the King of Spain's Daughters Golden pear as i liberally polished it up with gold spray, and a scattering of crushed pecan praline looks like sparkling jewels. Showstopper!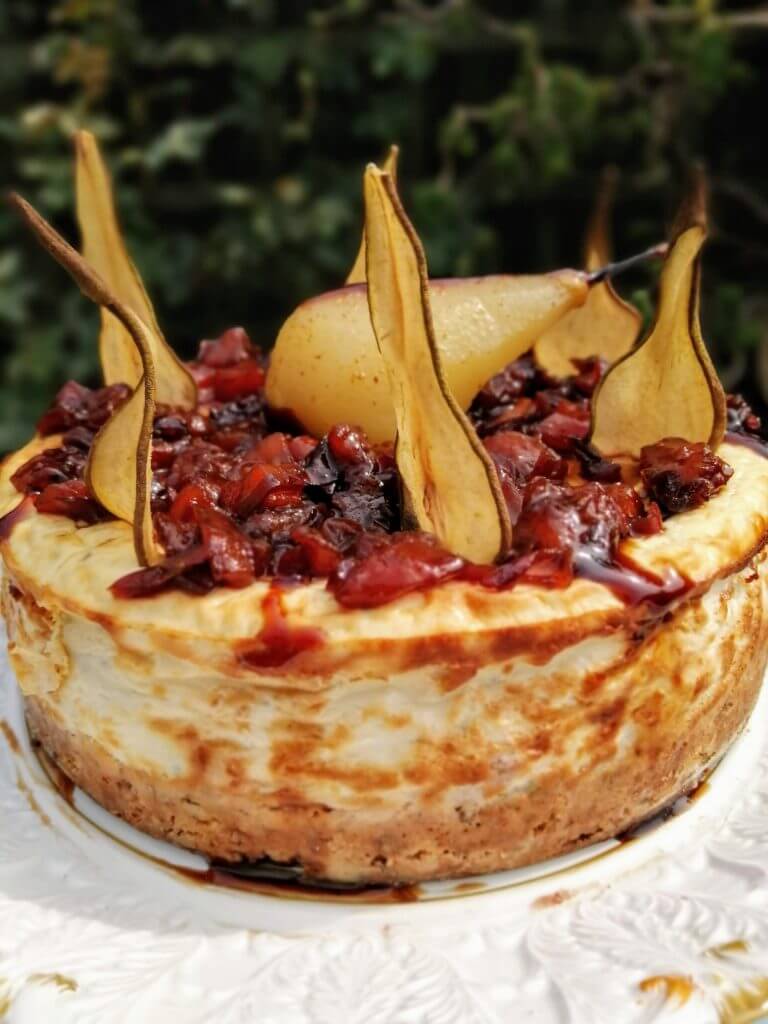 Base
120g Savoury Crackers and Ginger Biscuits
80g Melted Butter
60g Pecans
Cake
250g Full Fat Cream Cheese with Chives/Herbs/Garlic
250g Ricotta
100g Creme Fraiche
100g Crumbled Stilton
1 Peeled and Diced Pear or Dried Pear
Tsp Mustard / Tsp Dried garlic powder/chilli flakes/smoked paprika/ anything goes
4 Beaten Eggs
Pear Relish Topping
3 Pears peeled cored and diced
1 Red Onion diced
160ml White Wine Vinegar
60g Brown Sugar
50g Mixed dried Berries
Pecan Brittle
100g Castor Sugar
50g Pecans
2 Tbs water
Poached Pear
1 peeled pear, leave stalk and bottom on
100g Castor sugar
100ml water
1 Tbs cinnamon
Dried Pears
1 Pear thinly sliced with skin on
Crush the biscuits and stir in the melted butter. In a greased and lined loose bottomed 20cm tin, press the biscuit mixture firmly down and chill in the fridge for an hour or more.
Mix all the cake ingredients together and pour on top of the base. Bake in the bottom of a 160 degree oven for about fifty minutes or until the cake is set with a slight wobble in the middle.
Put all the relish ingredients into a heavy based fry pan and bubble up until it is a jam like consistency.
Poach the pear in the sugar cinnamon water for about twenty minutes until tender
Heat the sugar and water gently in a separate pan for the brittle, do not stir, melteing the sugar and heating until it becomes caramel colored, stir in the pecans then pour it out on to grease proof sheet.
To dry the pears, slice as thinly as possible and dry in an oven on the lowest possible setting for several hours to dry out the moisture. If not using immediately store in an airtight jar.
To assemble, spoon the relish on top of the cheesecake. Place the poached pear centrally on top. Break the brittle into shards and push into the cheesecake also crushing some into smaller bits and scattering on the top. Using a small knife make slits around the cheesecake and push the dried pears into them.
I then spray some gold glitter all around for a shimmering golden pear effect.