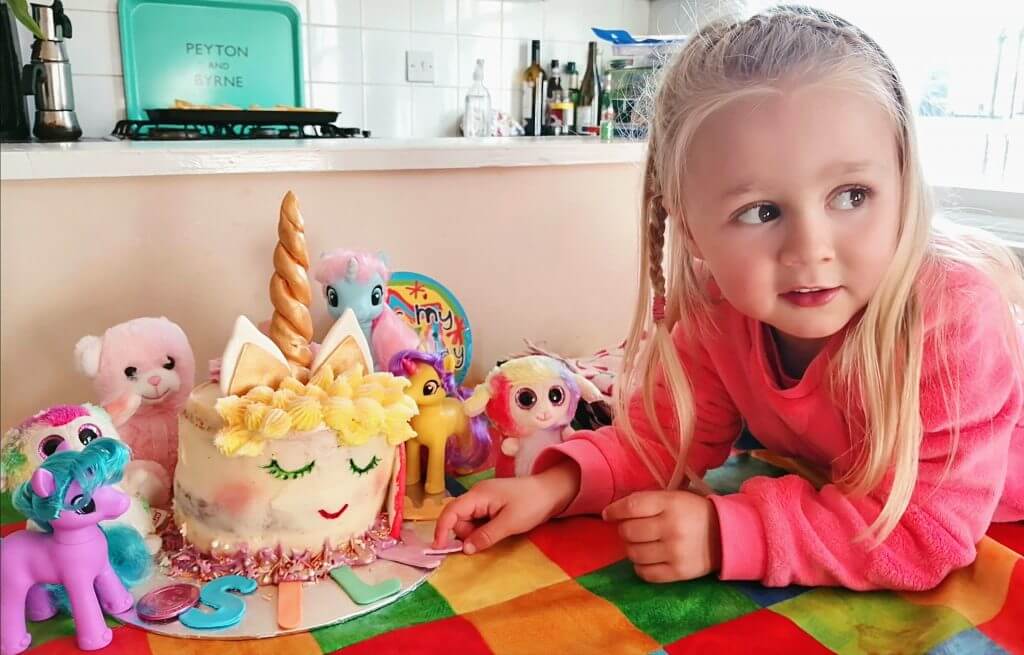 If you read my last blog then you are up to speed with the makeshift cake we made for Silke's birthday. When we brought it out on the birthday itself it had actually shifted, if you look you can see it is sloping. Fortunately the rainbow propped it up so we just told Silke the unicorn was having a snooze. She was of course delighted with her cake, which is all that matters. Four year olds can easily HATE things if they take against things!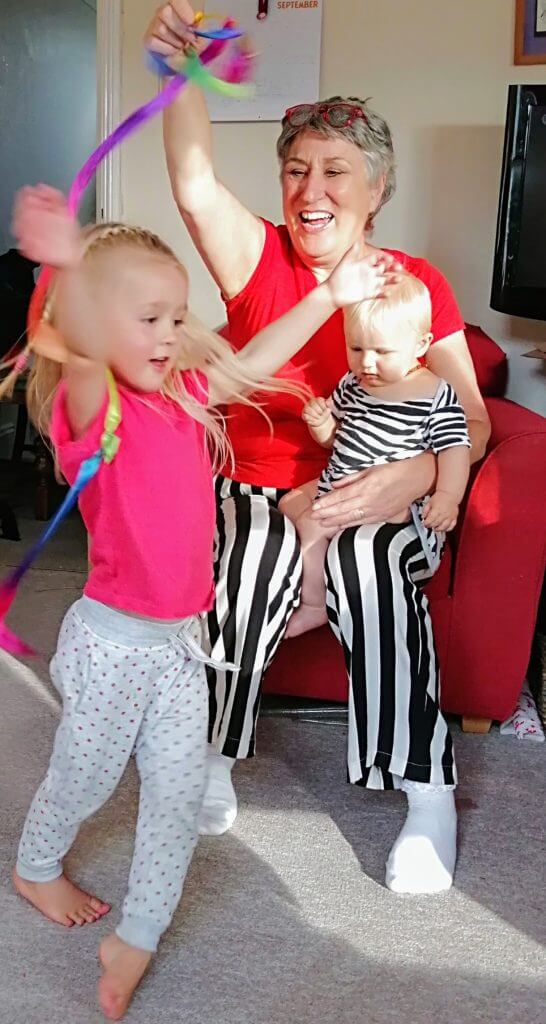 With a slice of sugary cake inside her Silke had plenty of energy that needed to be spent. A swift ribbon dancing session did the trick and then we sat down to a game of pass the parcel. After a few tears initially when the parcel didn't stop with her every time she did eventually understand the concept and enjoyed us all getting a chance to unwrap a treat, I got a temporary tattoo (2 days later it still is firmly in place, so pleased I didn't go with her wish of sticking it on my forehead). Of course by some miracle the final unwrap landed on her lap and she won the prize.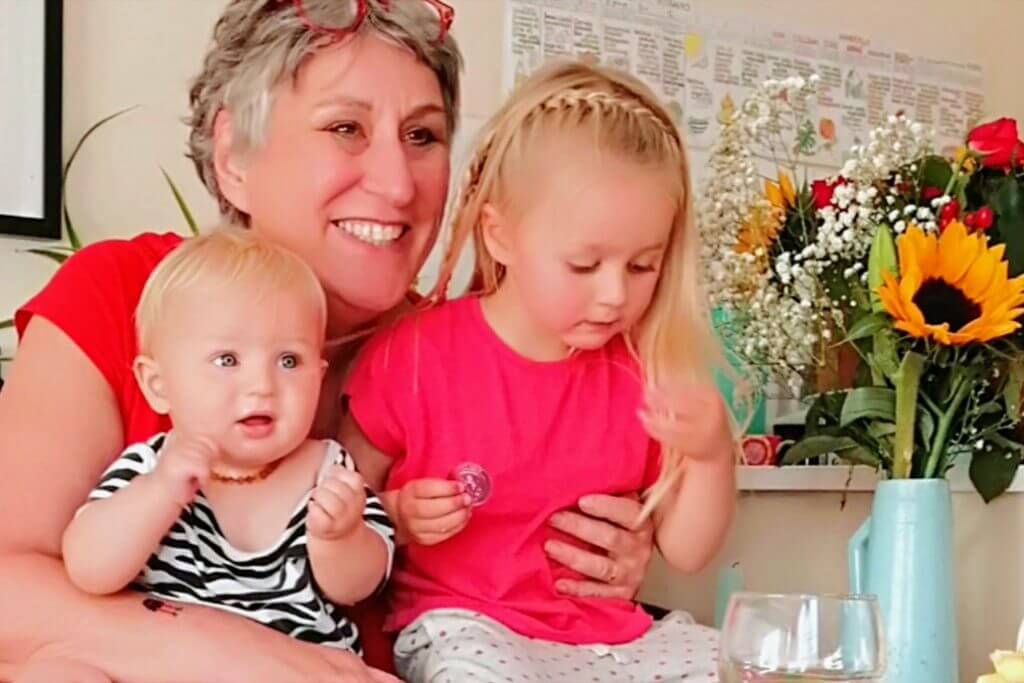 With the birthday celebrations finished we made our way back once again to the campsite. As I said before the buses in Brighton are so frequent and in all directions we never wait more than a couple of minutes and then the ride up towards the Marina where the campsite is takes about ten minutes or so.
Once off the bus there is a very pleasant ten minute walk over the park to get back to the campsite. Look what we found this time, on the tennis courts there appeared a pop up Covid Testing tent!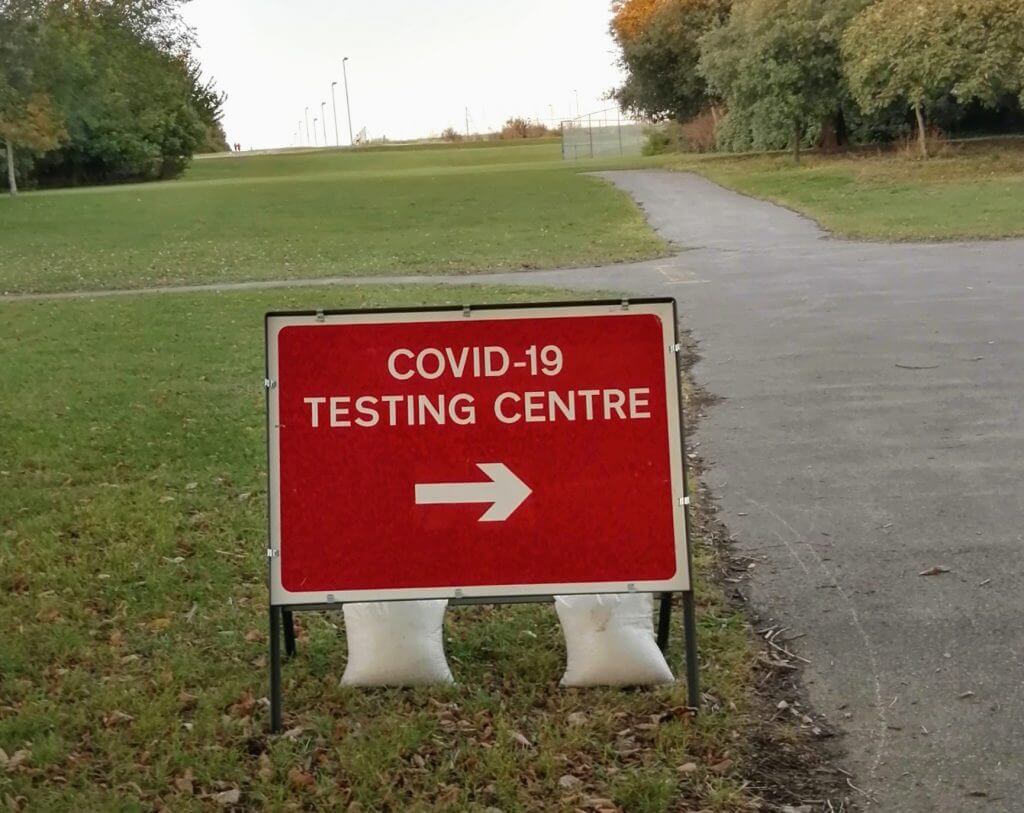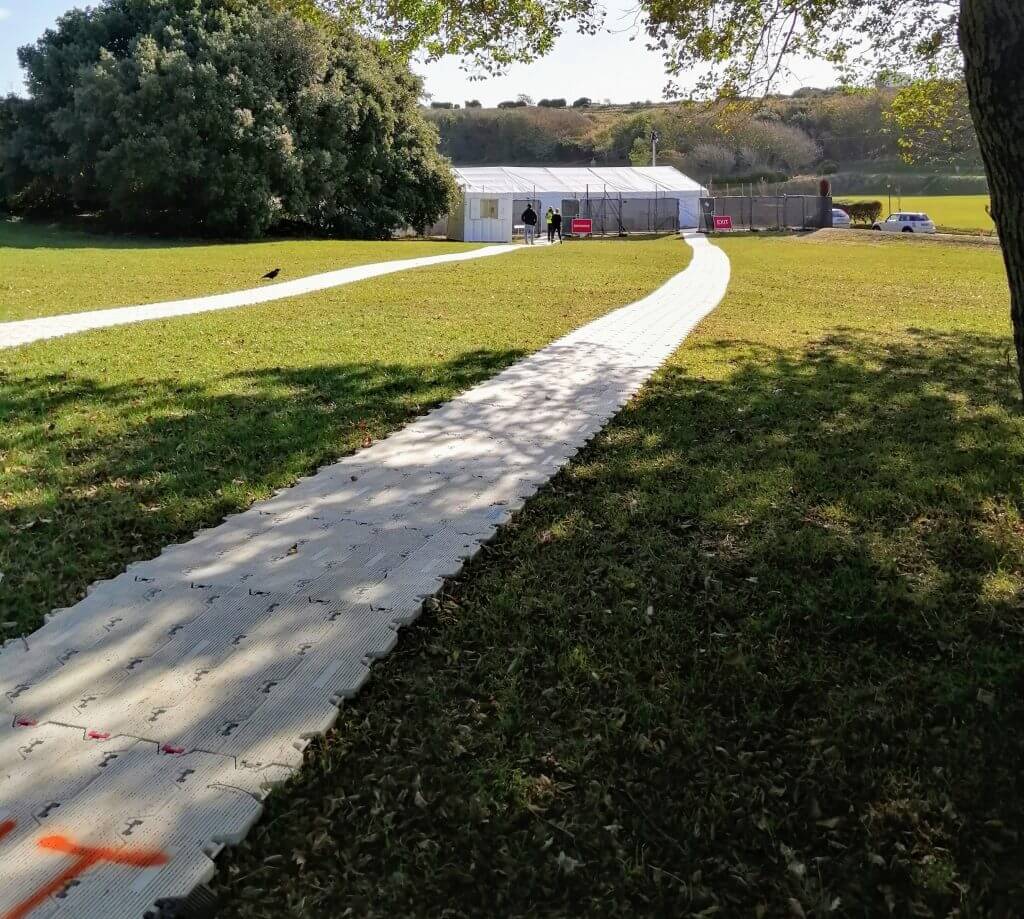 The next day the weather looked very good. We needed to go back to see the family again as this time it was Silke's dads birthday and we were going to look after her so they could go out for a spot of lunch. We togged ourselves up for a brisk walk from the campsite into town. The sky was what I always call Brighton Blue and everything looks so cheerful and like a proper seaside with that sky as a backdrop. The walk takes about three quarters of an hour and its along the front pretty much all of the way. There is a little train that runs from quite close to the Marina down to near the Pier. It is called The Volks Train. https://volksrailway.org.uk/ The train was originally opened in 1883. It was invented by Magnus Volks and is the worlds oldest operating electric railway. So if you fancy taking the weight of your legs on the walk perhaps you could try this.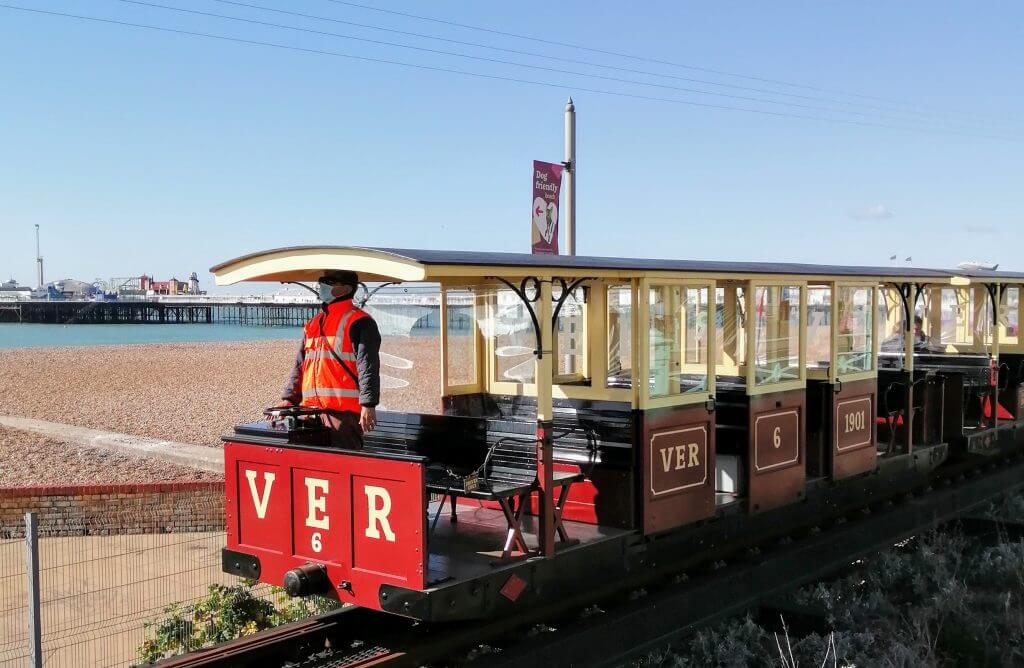 We carried on shanks pony and the next thing on my radar was this statue, who is it? this fine athlete?
We finally made it to the Pier. Not too busy today but everything was open and it is free to have a stroll along. Here is the link for you.https://www.brightonpier.co.uk/
of course this is not the first pier in Brighton. The original pier was opened in 1866. It is opposite The Grand hotel and was the first pier to be Grade 1 listed. It became derelict and was closed in 1975. The bad storms in 2002 caused lots more damage and then fires destroyed most of the remaining structure. Its framework still remains and we love to watch the massive murmuration of starlings at sundown.

My all time favourite funfair ride is the galloping horses or as it is properly called, a carousel. As we walked along I spotted it was up and running. The cost was three pounds so I hopped aboard. Everything was wiped down before you take a saddle and then the music fires up and off we went. I loved it, big kid!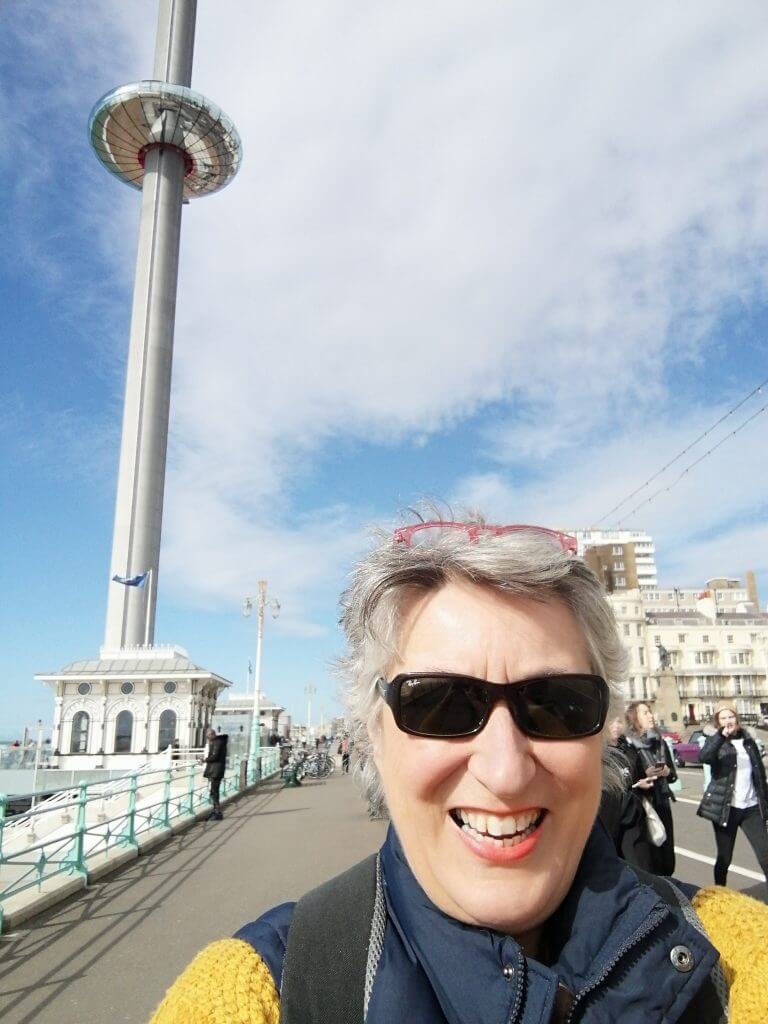 Almost at our destination just two more photo opportunities to squeeze in the walk. The British Airways Eye360 can be seen from miles away. I have still not plucked up the courage to take a ride but it is on my list of must do things. On a bright day like today it must have been fab up there.https://en.wikipedia.org/wiki/British_Airways_i360 I decided today a selfie would have to do.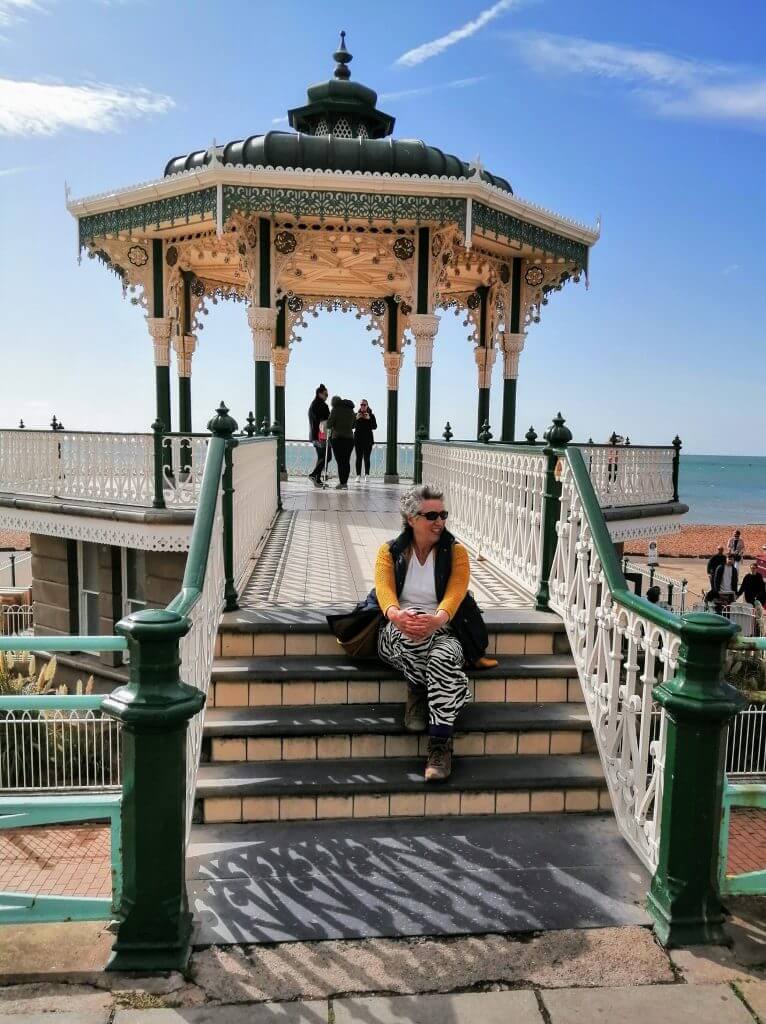 This photo is of this gorgeous bandstand that is registered for weddings. Underneath it there is a cute café with inside and outside seating. I have yet to see a wedding taking place but sure it would be so romantic, perhaps if I get married again lol!
There is so much to see and do in Brighton. It has its very unique vibe. I really love to visit and the Caravan and Motorhome Club site is tucked away in a hollow just behind the Marina. This site also has glamping pods and airstreams that can be hired too, here is the link to the site.https://www.experiencefreedom.co.uk/locations/regions/south-east/east-sussex/brighton/
It is our last day of this caravan trip tomorrow and we are staying on site. I shall take a few pics and post them on my last blog. We intend to have a game of boule, a few drinks and a gentle day doing nothing in particular, see you tomorrow!