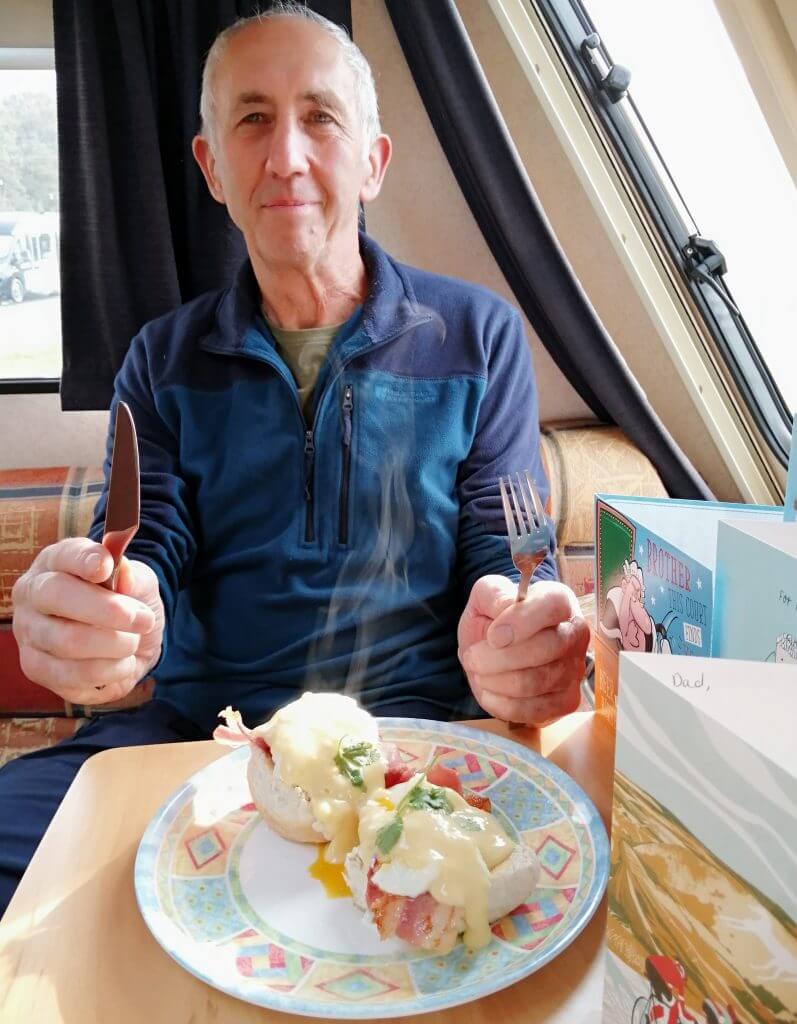 Day 14 of this caravan blog off is all about John. John my husband of thirty years looks forward to his birthday. He tries very hard to discover what his presents are and for sure would be trying to guess what they are. He was 73 yesterday…… unbelievable, how could that be? It seems the third week in September has the most birthdays, something to do with it being 9 months after Xmas, too many tipples maybe! Anyway, we have three birthdays in this one week and Johns comes in first. Last week you might remember that Terry cooked an eggs benedict when we were still in Malvern. I decided to do the same dish for birthday breakfast. It worked perfectly and we both ate every scrap.
After John had opened his presents and his six cards (as you get older you get less cards not more, unless you are Sir Tom lol) We got ready to go out for a couple of hours. Our daughter Kit, her partner Finn and the baby were collecting us to go out for a spot of lunch. The weather was blustery and showery so we got our cagoules on and out we went.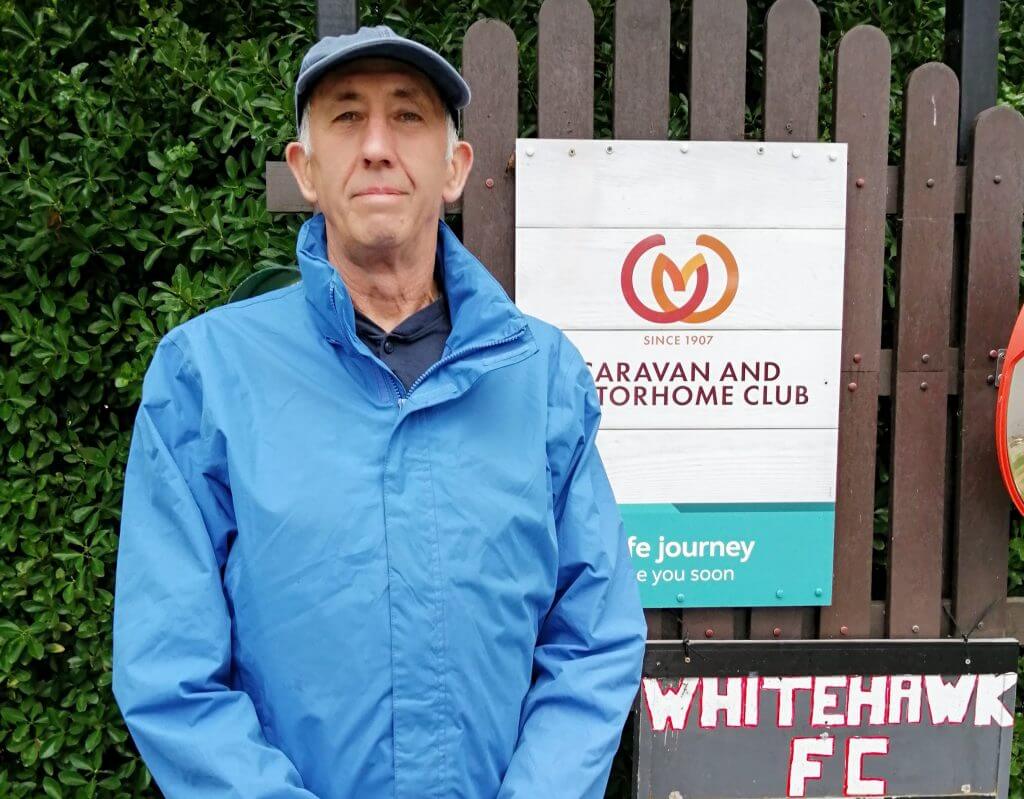 Our carriage collected us from outside the Caravan and Motorhome Club site here at Brighton and we drove just a couple of miles to Rottingdean. After trying to find a country style pub but failing to find parking we settled for a Greene King chain pub called The White Horse. It was perfectly fine. In fact it had a commanding view of the choppy sea. All Covid measures in place and fab people looking after us. John loves fish and chips so I gave in once again and had the same. We did discover they do a decent vegan menu too.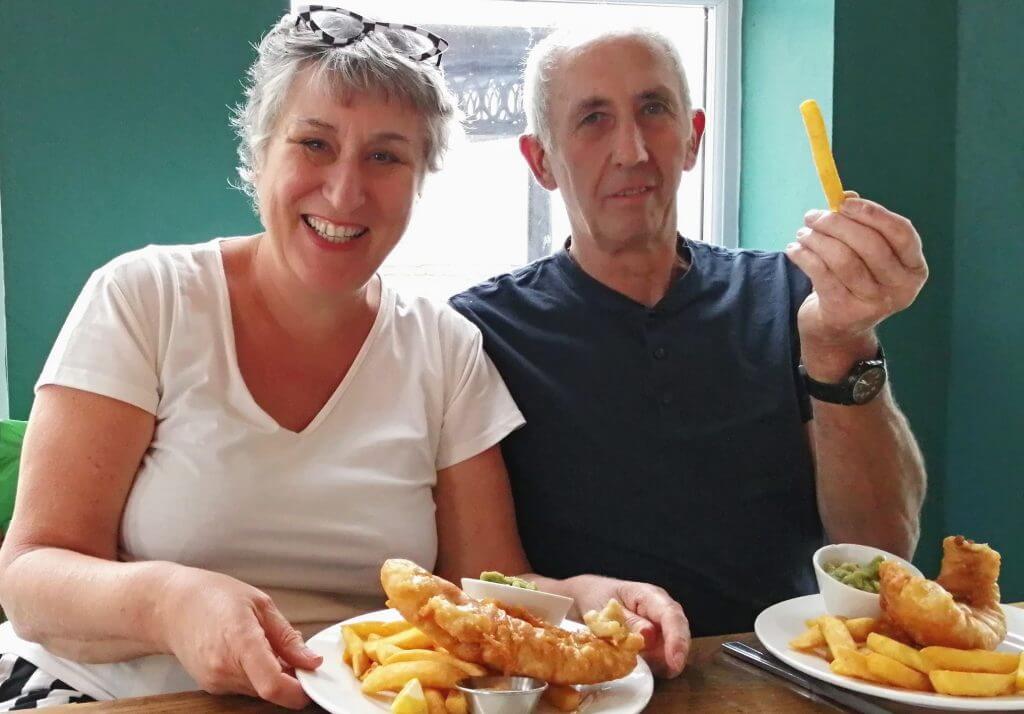 After such a big breakfast and lunch the next thing on our agenda was a snooze! We were dropped off at the site and got settled down for a couple of hours rest. John started to have a look at his presents. We call him Mapman sometimes as he is very keen on maps. Our girls had ordered an ordnance survey jigsaw of where we live for him, hours of fun ahead!
I needed to reset myself as I had volunteered to cook for the last of this seasons run of cook a long live with Great British Food Festivals. Normally I work with this company and do live cooking and baking demos at their food festivals up and down the country. With everything scrapped for this year they decided to do some fun cook a longs on YouTube. As it was Johns birthday I said I would demo my take on beef stroganoff. This involves setting my phone up and zooming using my tripod, here you see me setting up. below the pic you can see the link to take a look.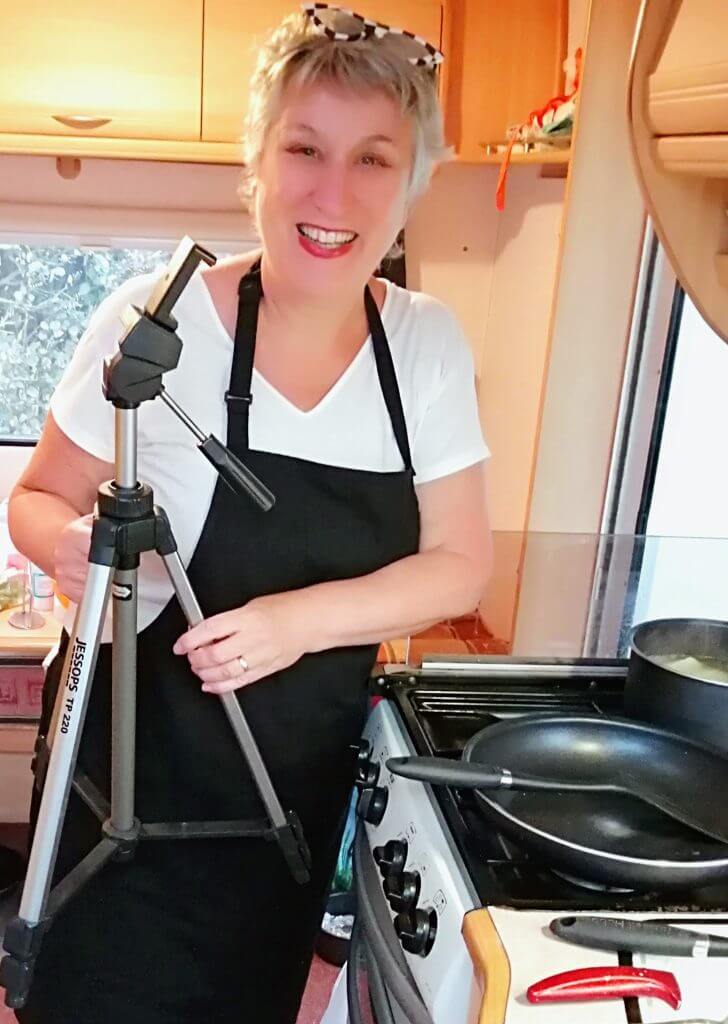 The recipe worked out for everyone and we had a good laugh along the way. You can still view all of the cook a long sessions on the Great British Food Festivals Youtube. We set the table and opened a very good bottle of Burgundy that our girls had given to John and tucked in once again.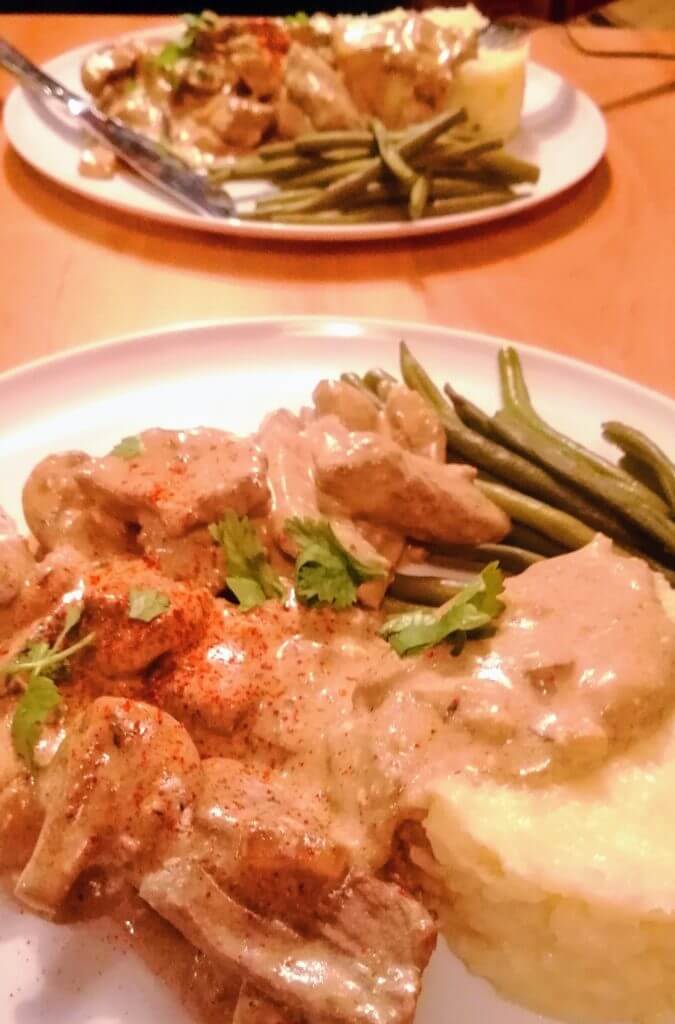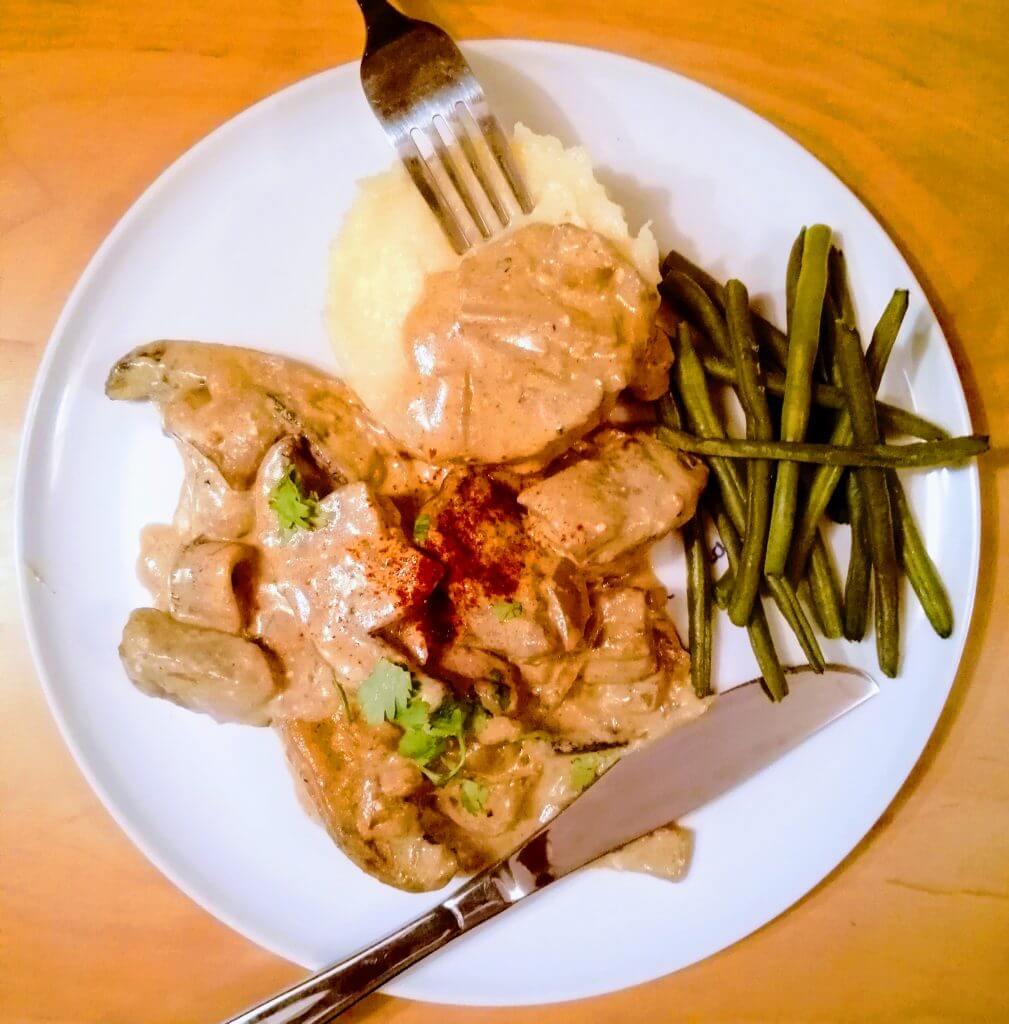 After we had cleared away John started on his presents again, thank goodness not the jigsaw. I had bought him a book that Matt Allwright (him off telly) had published last month. Matt and I did a little forum together at the NEC caravan motorhome club show back in February and he is so lovely and I felt confident John would love the book. He does, glued to it! Look here he is… I bought it through Amazon, here is the link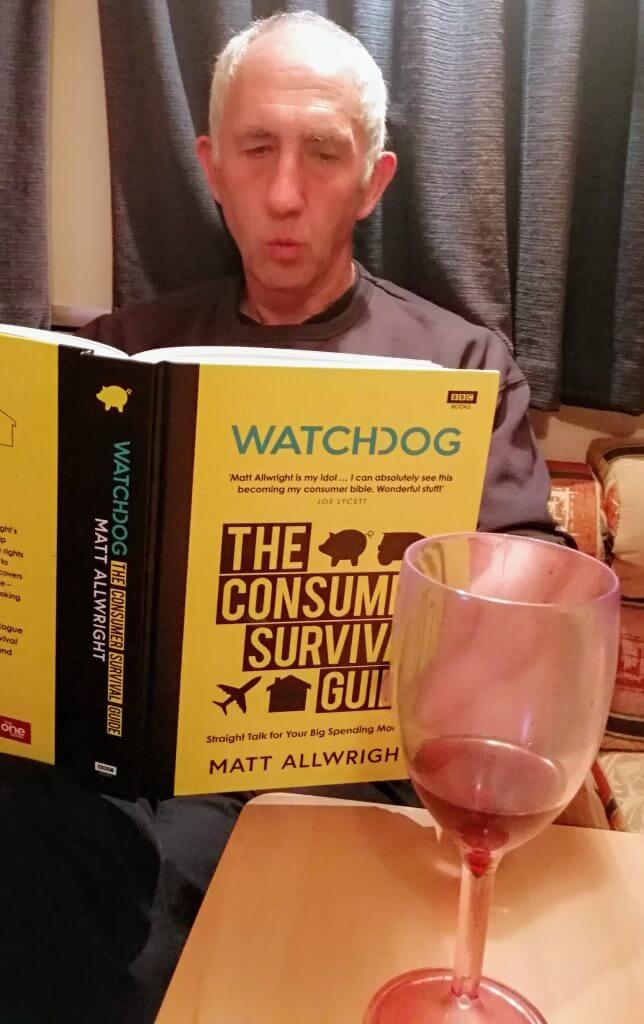 So there we have it, for once a blog that is not all about me 🙂 Now I need to get myself organised for the next birthday looming, Silke turns 4 on day 16 blog, I need to sort a cake!