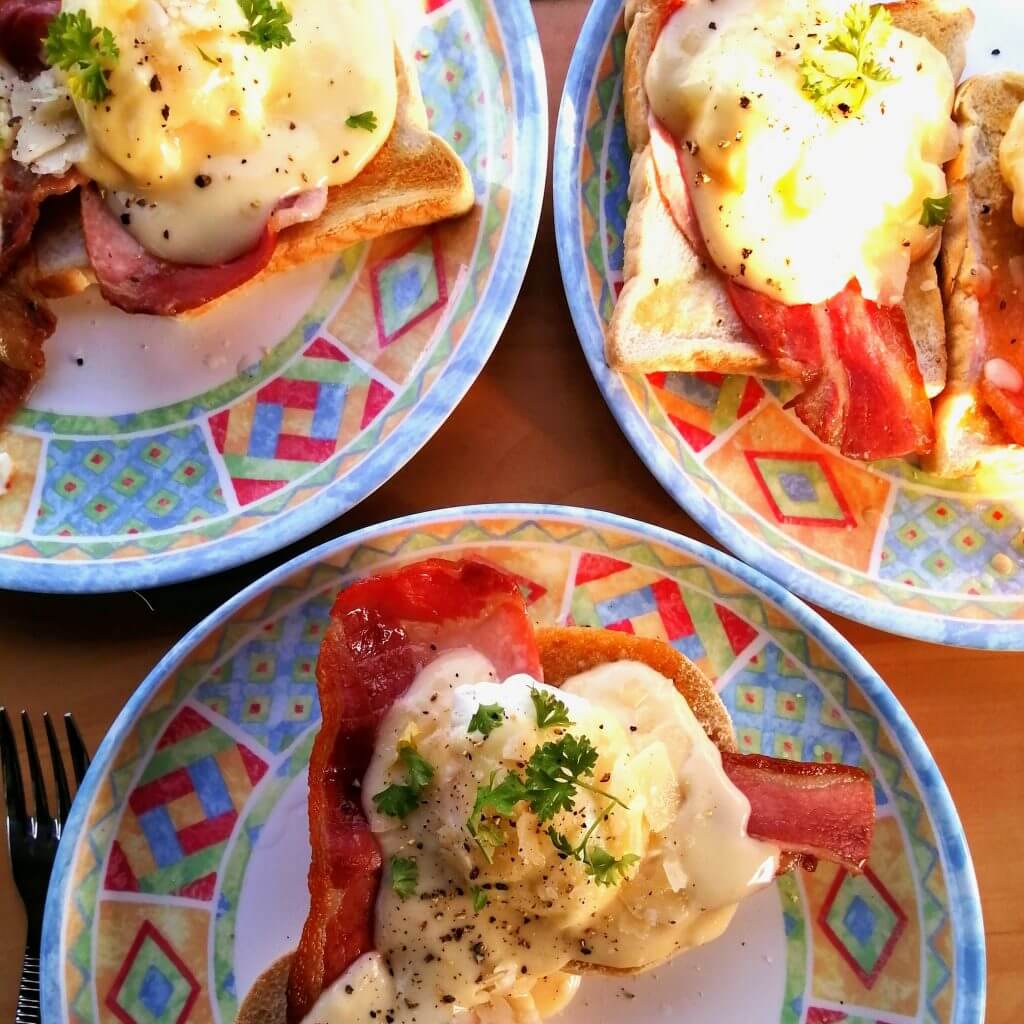 How do you like your eggs in the morning? I like mine with a smile! That's how the song goes. Well to start our day off with an energy boost I made eggs benedict, first time ever. Terry showed me the ropes as it is his regular brekkie. Very delish. it is a toasted muffin, or in our case sliced bread with grilled bacon, poached eggs and a dollop of hollondaise sauce. terry likes to add a bit of parmesan and a trimming of green herbs, we used parsley and that is it. Apparently it was invented by a chef in the 1860's for a Mrs Benedict who was fed up of bacon and eggs. We cheated (camping allowed) and used a packet of hollondaise but I did learn a crafty trick with the poached eggs. Terry cracked each one into cling film draped over a cup and made a little bag containing each egg, twisted secure at the top. All the eggs went in the pan at the same time for three minutes, and hey presto, perfect poached eggs!
The reason we wanted a hefty breakfast was we were going to walk along the Malverns. We set off in the car and found a place to park up and began the climb along the tops. very hot and very beautiful. I decided to take Terrys little dog Meg and wait it out in the shade while John and Terry went up to the beacon. It was really grand!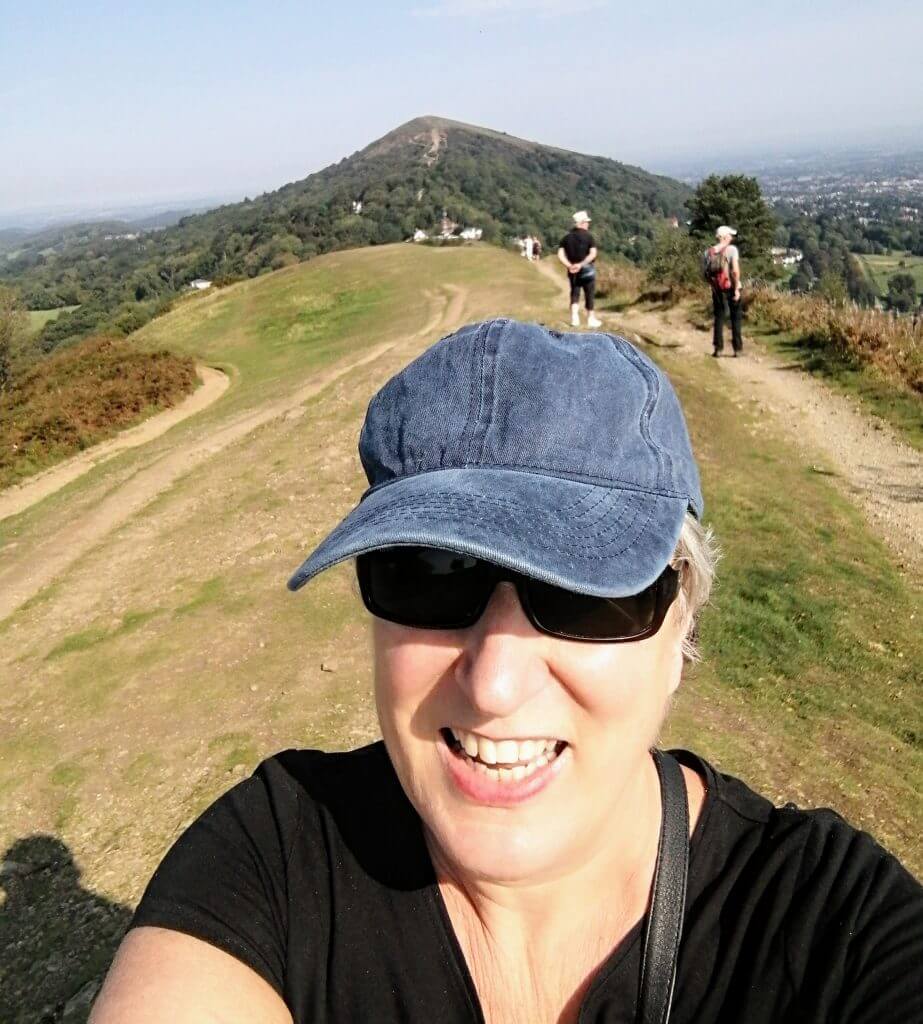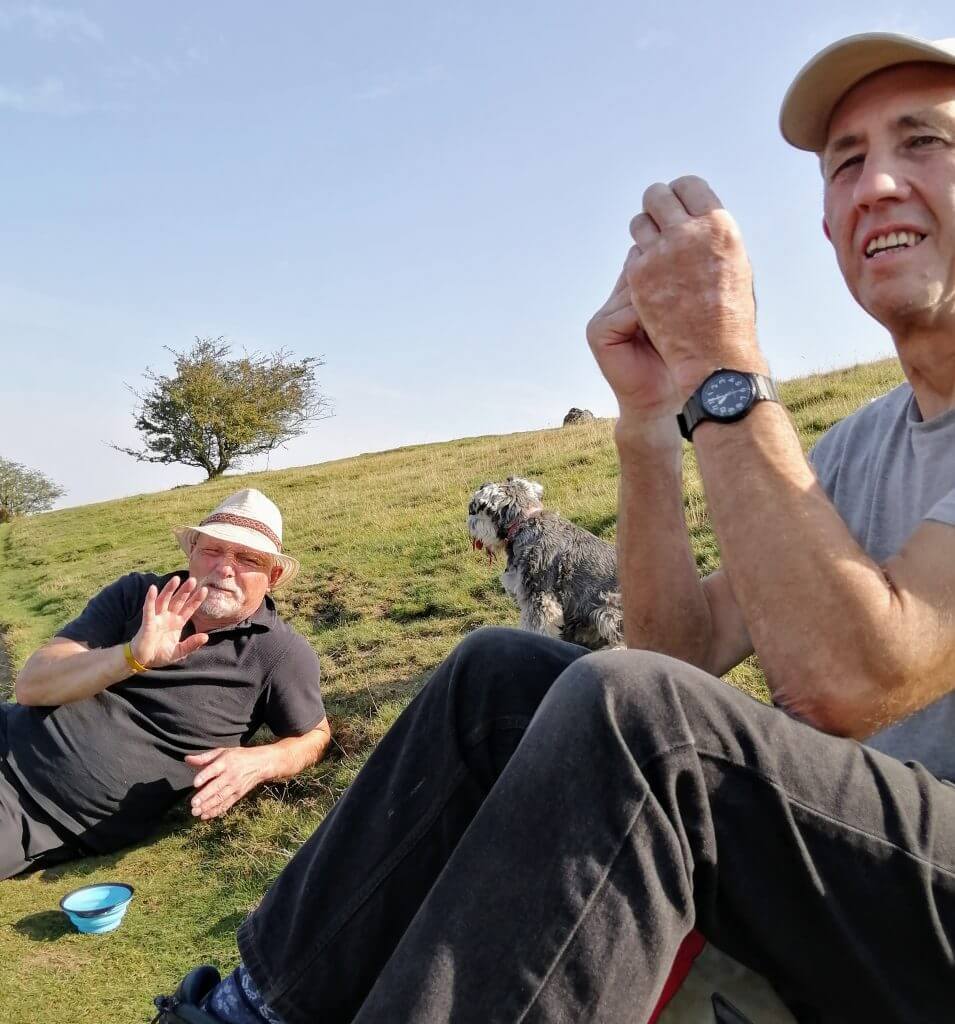 We headed back to the caravan and camping club site at Malvern where we were pitched, had a shower and cuppa and then headed off to a farm shop that had been recommended to us. Clive fruit farm – it was on the edge of Upton on Severn. We had decided on a BBQ for tea so we bought what we fancied from the butchers department. I spied a big barrel of what was called Wobble Juice so decided it was too interesting a name to ignore. Scrumpy pressed on the farm! I bought some to take back to the caravan, well it had to be done! We had an ice cream and headed back to site.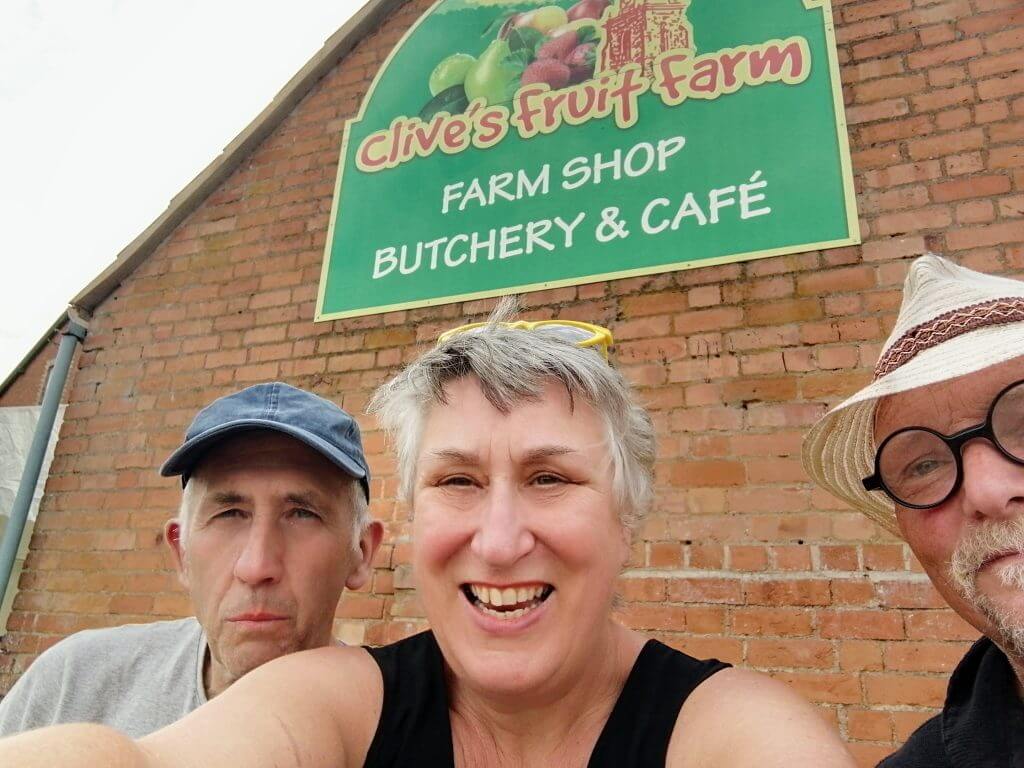 John fired up the charcoal BBQ and I assembled the Safari Chef 2 Cadac. We had lamb burgers, sausages (of course) and I skewered up some pork for kebabs, which were doused in the wobble juice! It was a real feast and the evening was still warm and sunny.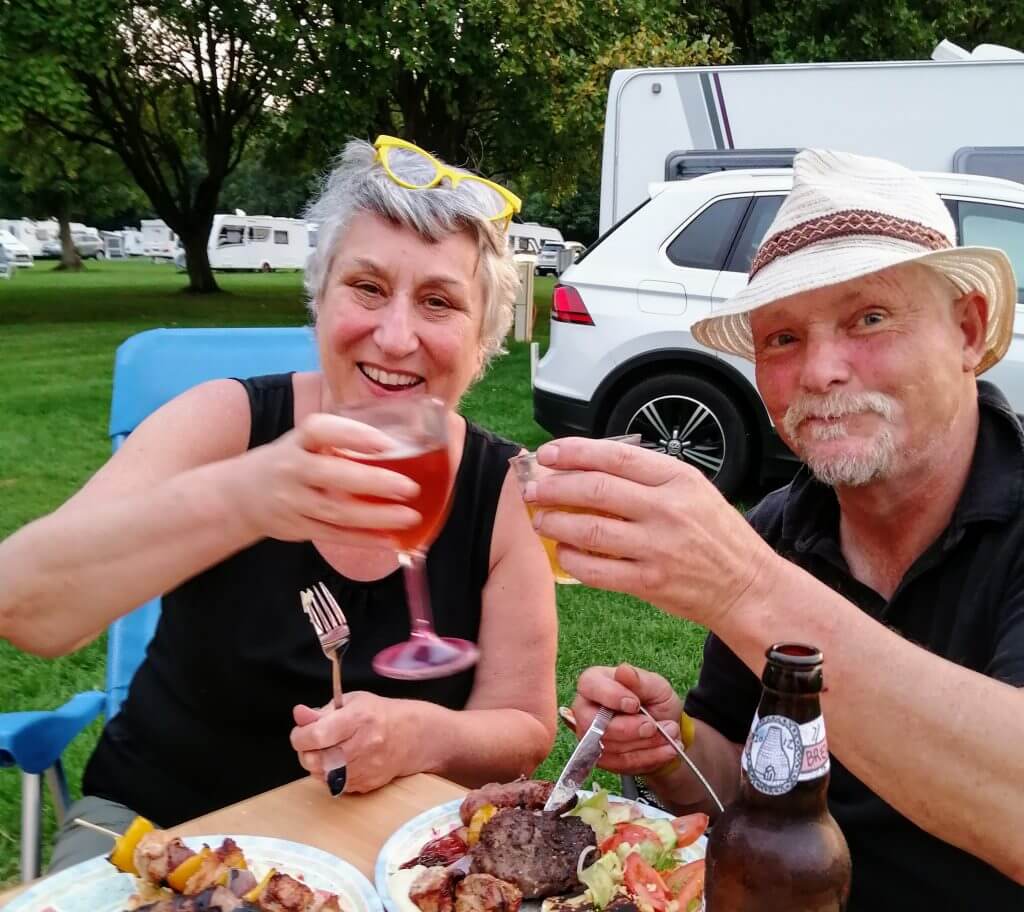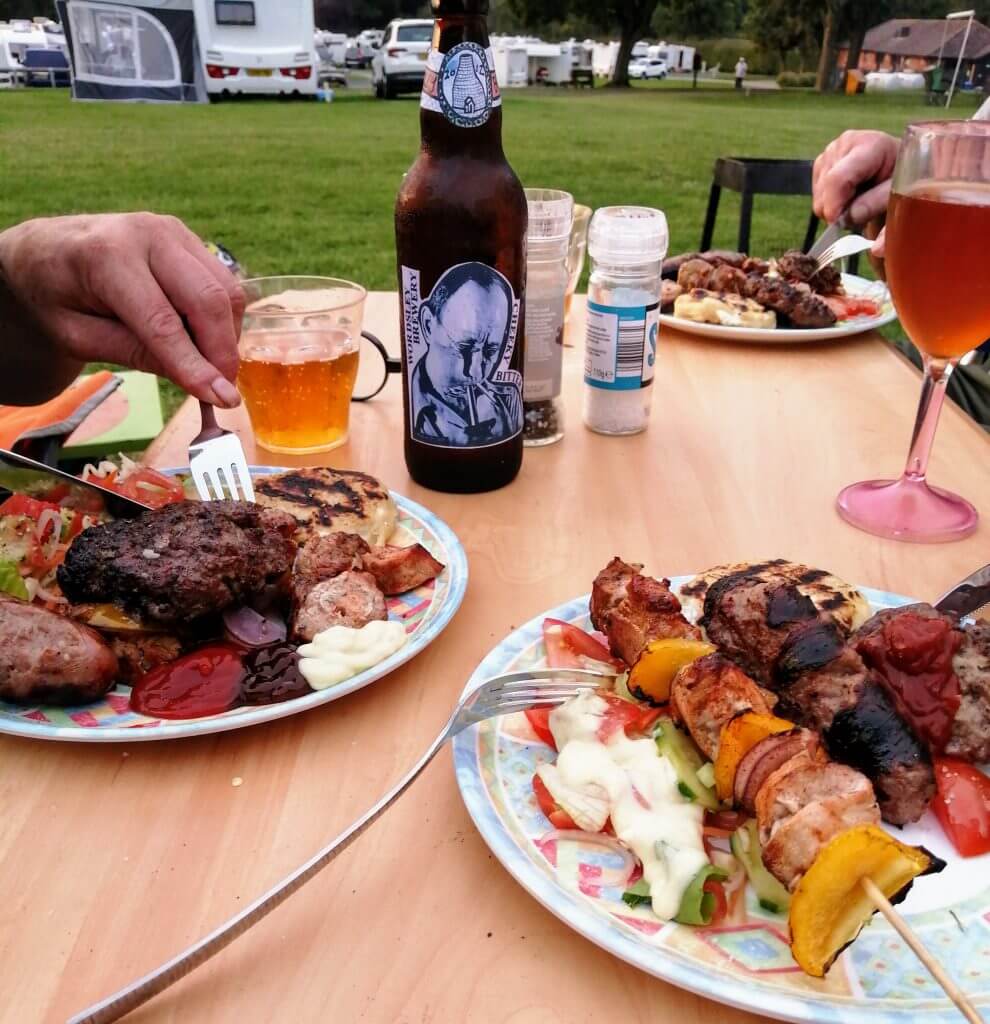 I used up some left over mash and transformed them into potato cakes, I just added plain flour, goat cheese and spices. I used the cadac to heat them up and they got a fab crusty bottom on them!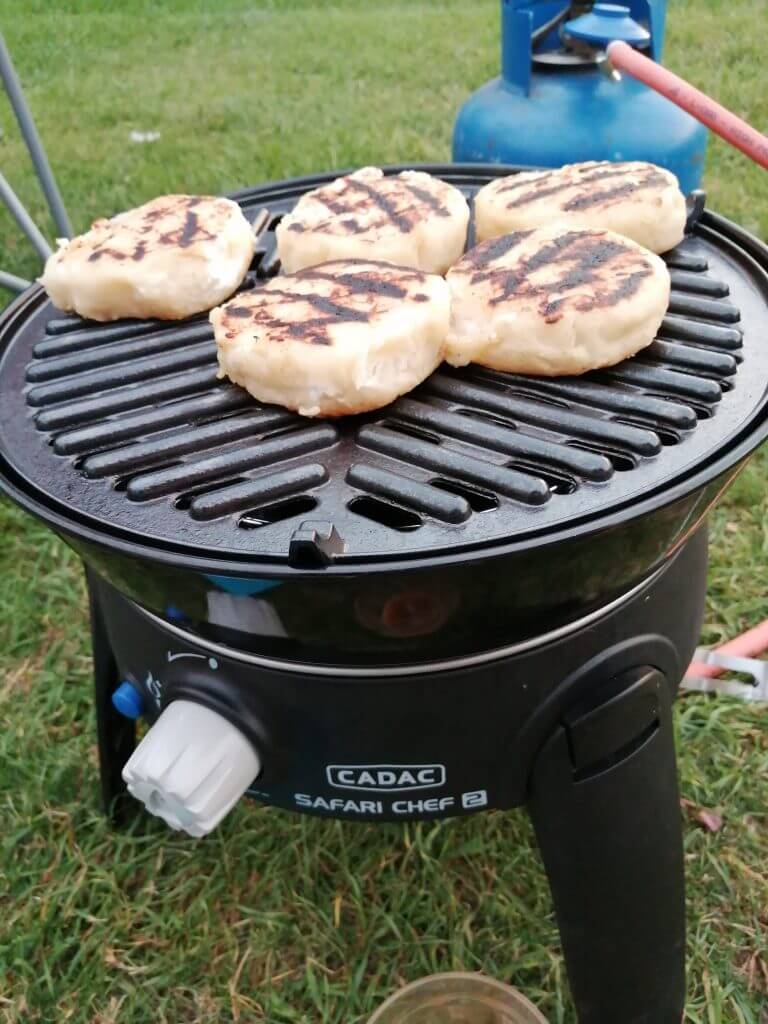 We also had afters! remember all those Elgar's apples? Terry used some up and made apple cream horns with from scratch puff pastry, hey how about that then!!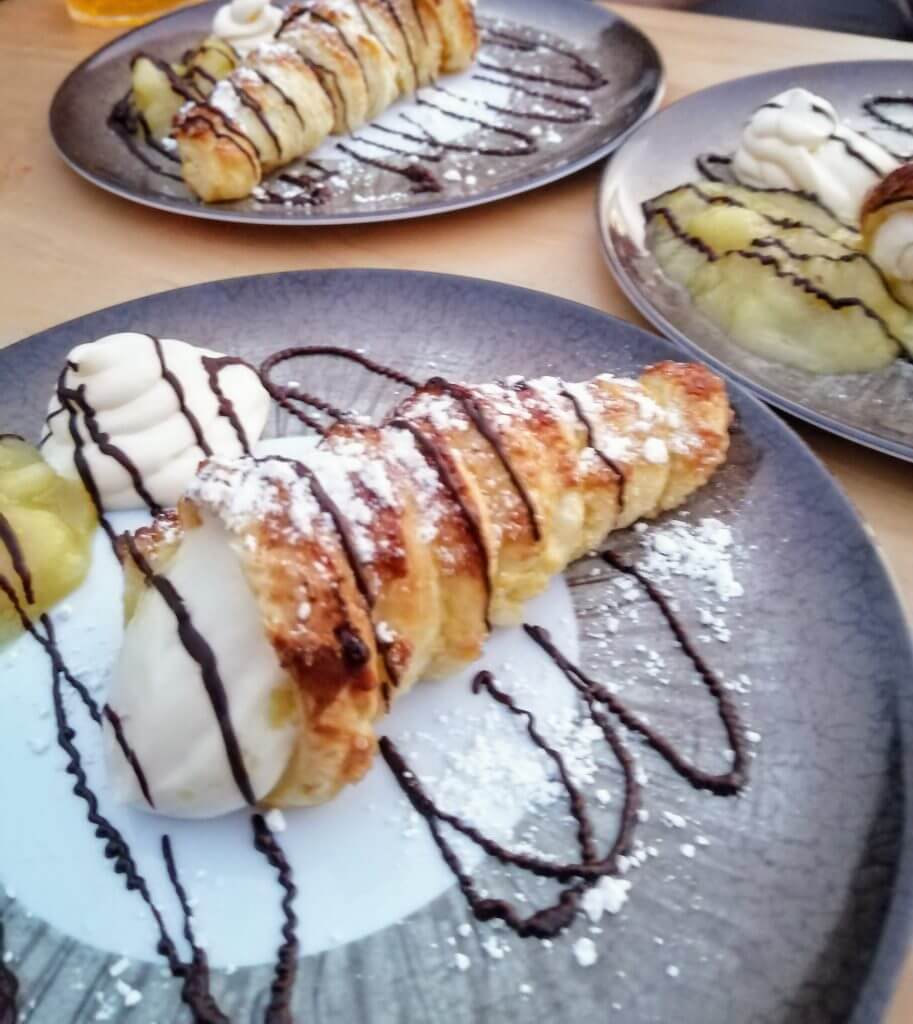 What a great finale to our few days at Malvern. We really have had the best time. To top it off the new bakers for The Great British Bake Off 2020 were announced so BBC Hereford and Worcester called us up during our BBQ to chat on air about the bake off, icing on the cake