This is a quick curry that is perfect for a speedy dinner. Great on its own or with rice, chips, or – like I have included here – a quick pan fried naan bread. I developed this speedy store cupboard recipe for the NEC Caravan, Camping and Motorhome show live food demo.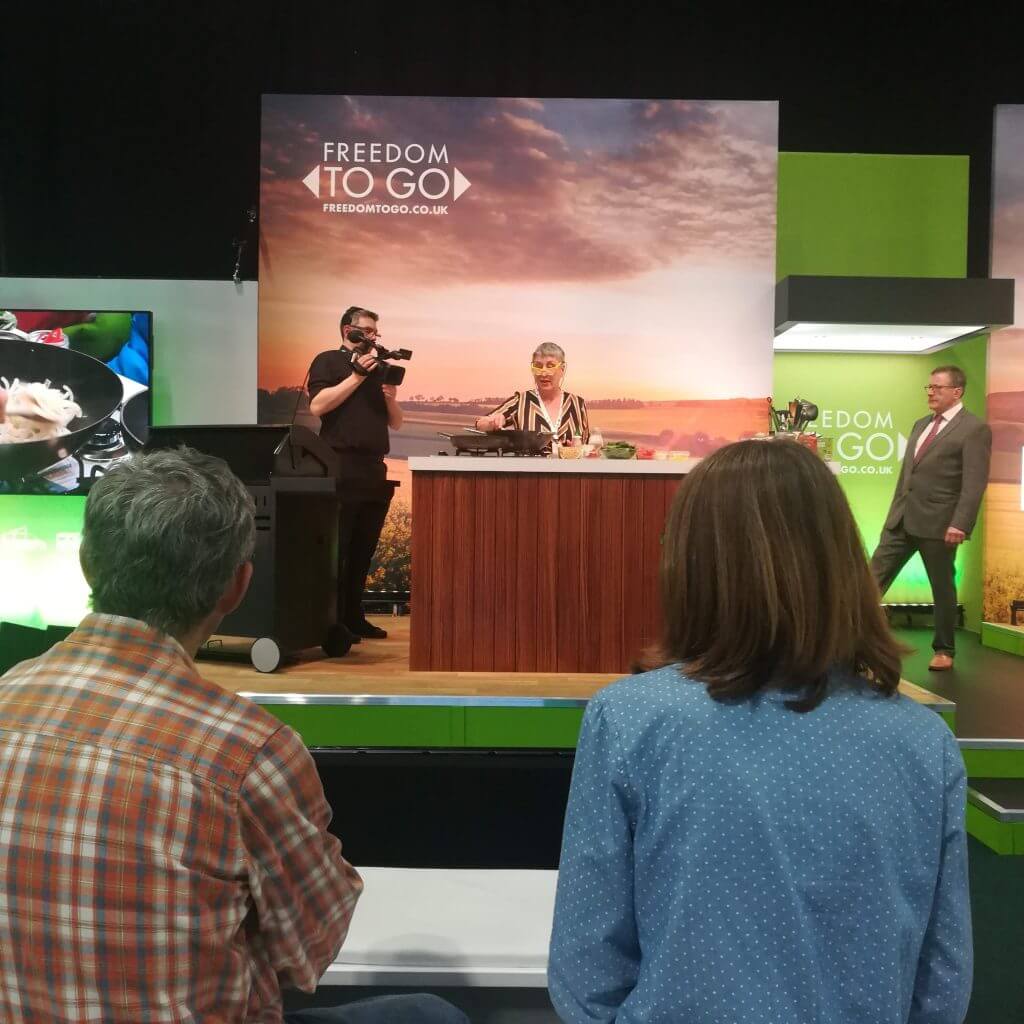 Ingredients (serves 4)
2 tbsp olive oil
1 large sliced white onion
1 heaped tsp garlic paste
1 heaped tsp ginger paste
half tsp chilli paste
1 tsp salt
2 tbsp curry powder
1 tin chopped tomatoes
1 tin chickpeas
1 tin coconut milk (stirred well with 3/4 cup removed for the naans)
1 tin spinach (optional)
Optional Extras
2 Chopped fresh tomatoes
2 red chillies thinly sliced lengthways
3 Handfuls fresh baby spinach
Handful crushed cashew nuts
Handful coriander
Method
Chop all the vegetables and rinse the chickpeas
Put a frying pan on a medium heat. Once hot, add the oil and onions.
Sautée onions for five minutes until soft.
Add the garlic, chilli, and ginger with the curry powder. Cook for 30 seconds.
Add the tomatoes, chickpeas, and coconut milk. Bring to the boil and then reduce to a simmer.
Cook for 10 minutes and serve.
Quick Panfried Naans
Ingredients
One and three quarters cups plain flour
1 heaped Tsp Baking Powder
1 Tsp Salt
2 Tsp Sugar
2 Tsp Oil
3/4 Cup coconut Milk
Olive Oil and garlic paste mix for basting
Garlic Oil Fry Light
Method
Add the dry ingredients to a bowl and mix together.
Add the coconut milk gradually and mix until smooth.
Split into four and shape into balls.
Roll out to the thickness of a £1 coin.
Spray a frying pan with FryLight and cook the naans for few minutes on each side.