I think everyone that I know loves sausage rolls, especially at parties. I make a batch of rolls quite often and keep them in my freezer, so I always have something handy in a party emergency! I use ready rolled shop bought puff pastry as it works very well and is easy and cheap to buy. I buy the one without butter so it can work for vegans too. 
If you want vegan rolls, I use Richmond's meat-free sausages for the filling and add my own seasoning in the same way as I do use pork sausages. I also seal and glaze them with soya milk. 
I like to jazz up my filling by adding a few spices or fresh herbs. At Christmas time I put a little cranberry sauce in the mixture to add some festive flavours. Sausage rolls are so versatile so get inventive and come up with your own ideas.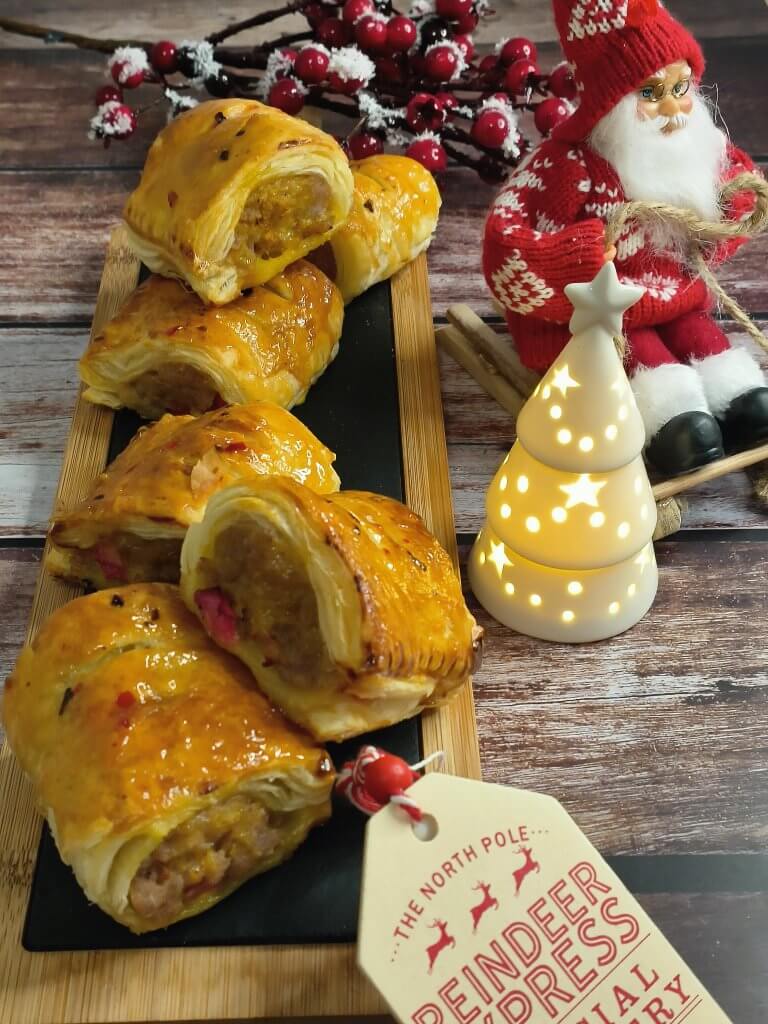 Ingredients
One pack ready to roll puff pastry
One beaten egg
One pack of pork/meat-free sausages
Handful finely chopped fresh parsley
1 Tbs cranberry sauce
1 tsp garlic puree
Salt and pepper
Method
Unroll the pastry and cut it into half along the long side.
Squeeze the sausages out of the skins and place in a bowl. Mix in the other ingredients and then lay the mixture along the middle of each length of pastry. 
Brush the pastry with beaten egg and then roll the pastry over the filling and seal the edges well. I use a fork to press the seam together to seal.
Slice into the size rolls you prefer, snip the top of each roll with scissors or slash with a sharp knife.
Brush well with egg and then bake in a 200c oven for about twenty minutes or until puffed up and golden.